In this scenario, we envisioned an urbanised landscape that gets abandoned over time with grassland and woodland expanding. The habitat maps should contain the following land cover types:
Midpoint displacement neutral landscape model
We can create a landscape with smooth transitions between different landcover types using the midpoint displacement algorihtm the NLMR package (Sciaini et al. 2018). Again, this simulator is stochastic and will produce different landscapes every time you run it, unless you set a seed for the random number generator.
# Set this seed if you want to obtain the same landscape as shown here:
set.seed(765)

r <- nlm_mpd(ncol = 513, nrow = 513, roughness = 0.65, rand_dev = 2)
## Warning in nlm_mpd(ncol = 513, nrow = 513, roughness = 0.65, rand_dev = 2):
## nlm_mpd changes the dimensions of the RasterLayer if even ncols/nrows are
## choosen.
show_landscape(r)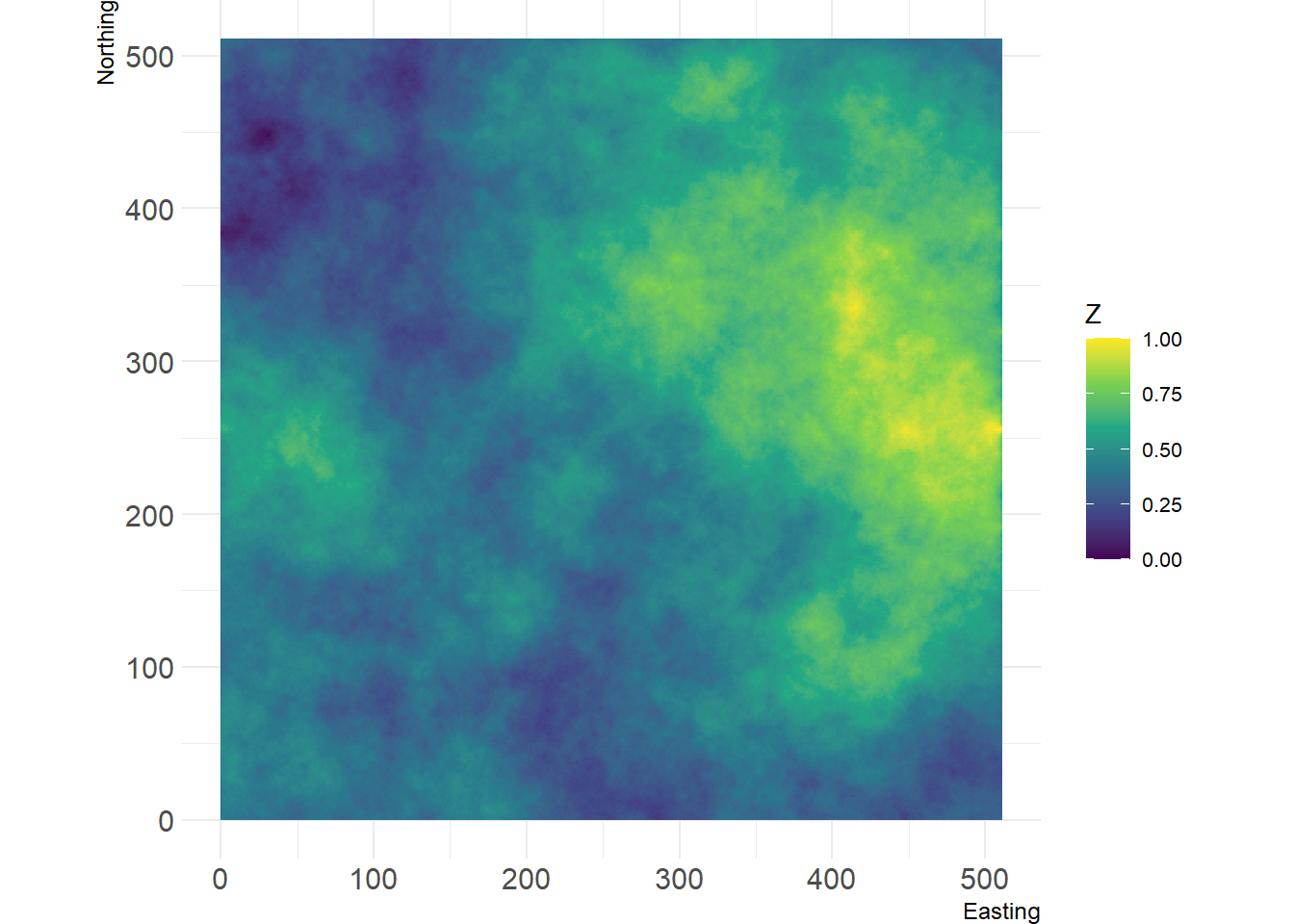 Reclassify rasters
The midpoint displacement algorithm outputs a continuous map ranging 0-1. Now, we want to slice this landscape at different values to receive discrete patches of different land cover types. This can be done using a reclassification matrix. As the size of these patches should change dynamically over time, we need several reclassification matrices that define the thresholds for different time steps. This will require a little number crunching.
For convenience, we define a function that creates the required reclassification matrices. As arguments it takes the thresholds between 0-1 for each land cover type for the first and the last landscapes, and the desired number of time steps.
# Reclassification matrices
create_rclmatrices <- function(minmax_matrix,nr_dyntimes){
    rcl_list <- list()
    Nclasses <- nrow(minmax)
    delta <- (minmax[,2]-minmax[,1])/(nr_dyntimes-1)
    rcl_list[[1]] <- matrix(c(0,minmax[1:(Nclasses-1),1],minmax[,c(1,3)]),
                            ncol=3, byrow=FALSE)
    if(nr_dyntimes>1){
        for(i in 2:nr_dyntimes){
            temp <- rcl_list[[i-1]][,2]+delta
            rcl_list[[i]] <- matrix(c(0,temp[1:Nclasses-1],temp,minmax[,3]),
                                    ncol=3, byrow=FALSE)
        }
    }
return(rcl_list)}
Now, we define the thresholds (upper bounds) of four land cover classes for the first and the last time step, and create reclassification matrices from them:
# Columns: (1) min / (2) max upper bounds, (3) class ID
minmax <- matrix(c(0.35,0.20,1, 
                   0.50,0.35,2, 
                   0.80,0.65,3, 
                   1.00,1.00,4),
                 ncol=3, byrow=TRUE)

rcl_list <- create_rclmatrices(minmax,nr_dyntimes=4)
Now, we use the reclassify() function in the raster package to reclassify the continuous landscape map into a time series of land cover maps:
r_ts <- lapply(rcl_list, FUN = reclassify, x=r, include.lowest=TRUE)
r_ts <- stack(r_ts)
spplot(r_ts, col.regions=hcl.colors(nrow(minmax), "Terrain 2", rev=T), at = c(0,minmax[,3]))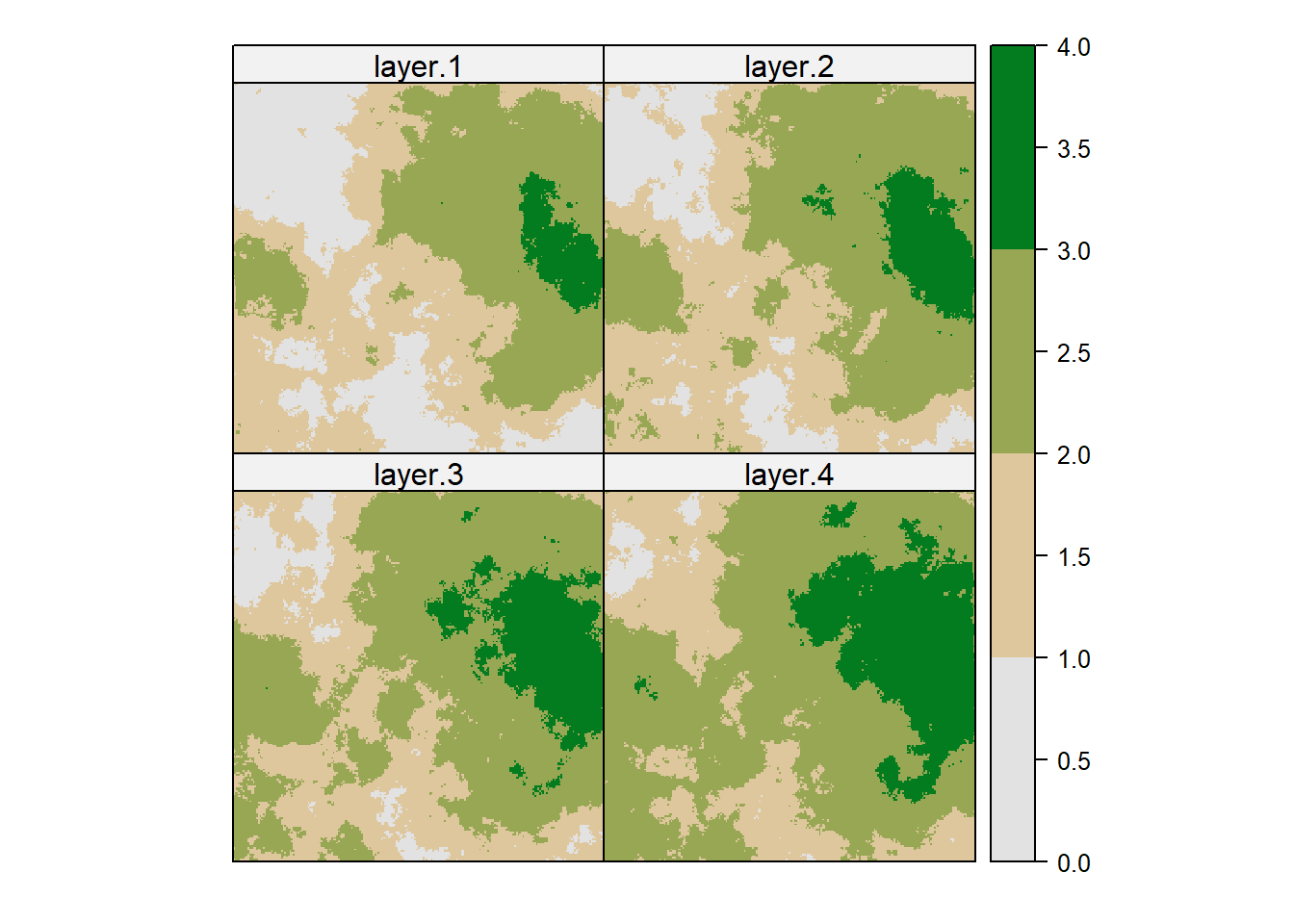 Save maps
Write rasters to ASCII files for use in RangeshiftR simulations:
#assign a number to this landscape
land_nr <- 1
for (step in 1:length(rcl_list)) {
    r_ts[[step]]@file@nodatavalue <- -9999
    writeRaster(r_ts[[step]], format="ascii", datatype = 'INT1S',
                filename = paste0(dirpath,"Inputs/habitat",land_nr,"_",step),
                overwrite = F)
}